I've just upgraded to Keepass 2.54.
Following this, credentials are not being auto-filled in Chrome (Version 113.0.5672.129 (Official Build) (64-bit)).
When looking in KeePass at the Authorised Clients connections, I have an error message stating.
"Sorry, you're unable to manage the connections you have authorised.
You can probably fix the problem by (re-)installing the latest version of
the Microsoft .NET framework."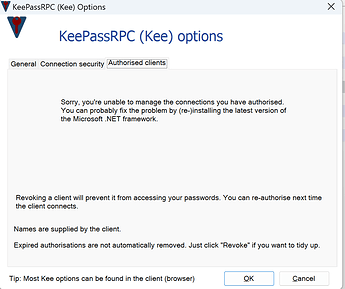 When I click on the Kee extension button in Chrome, I can still search for an entry.